The Classic Voyage North - Winter
on Coastal Ships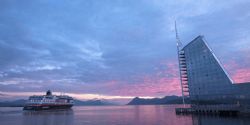 The Classic Voyage North
Bergen - Kirkenes
The Classic Voyage North is a journey of cultural exploration as you travel to the major coastal cities and remote communities, continuing north into the Arctic Circle. Explore the rugged coastline as you go face-to-face with natural wonders and experience thrilling excursions.
Winter is perhaps the most special time to explore the wild and untamed Norwegian scenery. The landscape is a magical winter
...

Discover the Hurtigruten Difference
Hurtigruten's unique heritage, combined with highly skilled crews and a diverse fleet consisting of nimble, intimately-scaled expedition ships, enable us to offer you breathtaking nature-based experiences in remote corners of the world.
No matter what ship you choose to travel on, you will get the opportunity to connect with your inner explorer – that's a promise. Furthermore, you will be doing so in the footsteps of the great explorers
...