Jewels of Alaska - Classic Group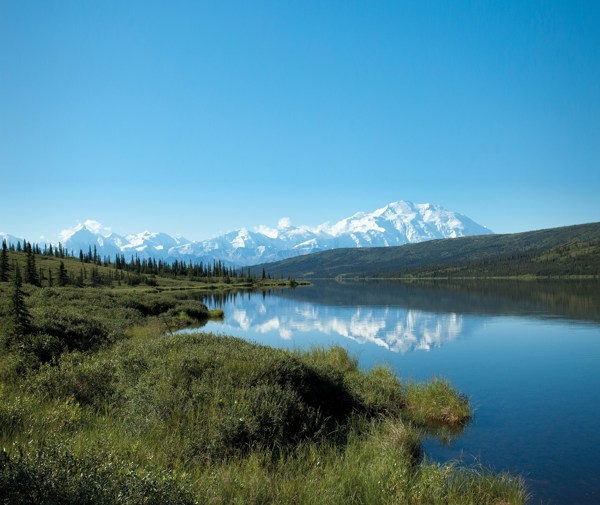 Jewels Of Alaska - Classic Group
Explore the wild and wonderful Alaskan wilderness during this 1-week guided tour. Begin your adventure in Anchorage with a sweet treat: Taste agutak - Inuit Ice Cream - after an exclusive demonstration by Alaska's Indigenous people at the Alaska Native Heritage Center. Board a jet boat for a tour along the Chulitna River to a trapper's cabin, where you will learn about the lifestyle of hunting and trapping in the state. Ride along the world-famous, glass-domed Alaskan Railroad toward Denali National Park, where the country's tallest peak, Mount McKinley, will greet you. Meet the champion dog team of a four-time Iditarod winner and allow him to regale you with tales of the 1,049-mile dogsled race over lunch at his home. From Whittier, take a 100-mile boat tour of Prince William Sound and the see the glaciers of College Fjord.
Choice HighlightsWell-being
: Enjoy the comfort of Insight's luxurious, air-conditioned, 40-seat coach with double the standard legroom and onboard washroom. Our customized luxury coaches are sanitized before the start of your tour and are maintained to very high standards. Physical distancing measures have been implemented on our customized luxury coaches.
: Experience enhanced hygiene protocols to align with the latest guidance following COVID-19. All Travel Directors, Well-Being Directors and Drivers have completed training in enhanced well-being and hygiene protocols.
: Our Well-Being Directors take a proactive approach to your welfare ensuring all well-being regulations are met (available on tours with 21 or more guests).
: Hand sanitizer is freely available on board for you to use throughout the day.
: We only work with establishments we are confident will consistently adhere to our high well-being standards, which include hotels, restaurants and sight-seeing venues.
Summary
Anchorage: Begin your vacation in culinary style at MUSE, a bespoke restaurant and atrium café located within the Anchorage Museum.
Authentic Dining
Anchorage: Join your Travel Director and fellow travellers for a Welcome Dinner.
Denali National Park: For tonight's dinner with wine, the choice is yours between a charming local brewery or your lodge's rustic restaurant during your Dine-Around evening.
Girdwood: In the evening, join your Travel Director for a wonderful Celebration Dinner, complete with wine and good cheer.
Dining Summary: 3 Dinner with Wine (DW), 6 Breakfast (B), and 2 Lunch (L)
Top Rated Highlights
Anchorage: Get acquainted with Alaska's largest city on an immersive city tour. Discover how this urban landscape enriched with culture came to be as you explore the historic downtown.
: Enjoy a jet Boat Tour up the Chulitna River and visit a Trappers Cabin. Learn about the fascinating lifestyle of hunting and trapping in Interior Alaska.
Alaska Railroad: Enjoy a Relaxed Start this morning before boarding the world-famous Alaska Railroad train for a spectacular journey over swift-rushing streams, toward Denali National Park and Preserve. View the majestic surroundings from the comfort of your glass-domed railcar.
Denali National Park: Meet a local climber at a private reception and hear first-hand about their experience climbing the tallest land-based mountain in the world. A Denali climb begins deep in the heart of the Alaska Range and takes around 17-18 days round trip from the base – to hear the tales about such a trek from someone who has experienced it firsthand is truly captivating.
Whittier (AK): Travel to Whittier to board the 26 Glacier Cruise for a 100-mile boat tour of Prince William Sound and into the College Fjord where you will come up close and personal to the glaciers. Visit with the Captain in the wheelhouse and enjoy an included lunch.
Insight Experiences
Anchorage: Enjoy an exclusive Agutak (Inuit ice cream) making demonstration during a visit to the renowned Alaska Native Heritage Center. Learn how this culinary treat establishes a link to the past, inspires a sense of pride and spurs a dialogue about an ancient people's remarkable ability to survive.
: This afternoon, depart Anchorage and travel through the fertile Matanuska Valley making a stop at a local farm to see how the long summer days and glacial silt create the perfect environment for growing GIANT award- winning vegetables and flowers. Even through the growing season is months shorter than the rest of the country, Alaska's farmers grow some of the largest vegetables in the world. The photosynthetic boost also makes the produce sweeter – a fascinating and insightful experience that shows a different side of Alaska.
Denali National Park: Meet four-time Iditarod winner, Martin Buser and learn about the challenges of competing in the 1,049-mile (1,688 kilometer) while enjoying lunch at his home. Martin's stories give an in depth look at his incredible thirty-five years of racing, as well as a great deal of enthralling Iditarod history.
Additional Included Highlights
From time to time, your Travel Director will delight you with an Insight Flourish, which is a local specialty representing the destination.
Hotel and restaurant tips are included - you'll never have to worry about how much to give, nor search for foreign currency. We also include all taxes and porterage charges at hotels.
We carry your bags for you and promptly deliver them to your hotel door.
Our highly-skilled Travel Director will ensure your journey is seamless, serving as your expert guide, consummate organiser, and friend overseas.
Personal radio headsets give you the freedom to wander during visits to famous highlights, without missing any of your Local Expert's fascinating commentary.
Travel is our passion and every step is designed with your comfort and pleasure in mind, giving you the vacation of your dreams. Enjoy a premium journey packed full of stylish hotels and authentic dining. Savor the views as you travel on spacious customized coaches, so that you arrive refreshed at each destination, and benefit from smaller group sizes. We believe incredible travel is about enjoying every moment, so the only question left for you is where do I want to go?
Airfare not included, Various departures